Get to know the Pros and Cons and the best option for you.
There once was a time when renting your entire life may have made reasonable financial sense. It was only a generation ago that mortgage rates were in the double digits and affordable rental units were aplenty. But over time, borrowing rates have fallen, and in major centres in Canada, rental rates have skyrocketed.
It now appears the attitude among Canadians is to buy as soon as you possibly can. While home ownership is a truly rewarding goal to achieve, you really need to assess your own situation to ensure you are making the best decision.
Below is a little graph to help you decide whether you should stay a renter or take the plunge and buy. If buying is not an option for you yet, get a head start by learning the in's and out's of the home buying process.If home ownership is a serious goal, partner with a mortgage broker in your area to discus your individual situation. As far away as the goal may seem, you might be surprised how a professional can help you get your foot in the door – or at least in the right direction!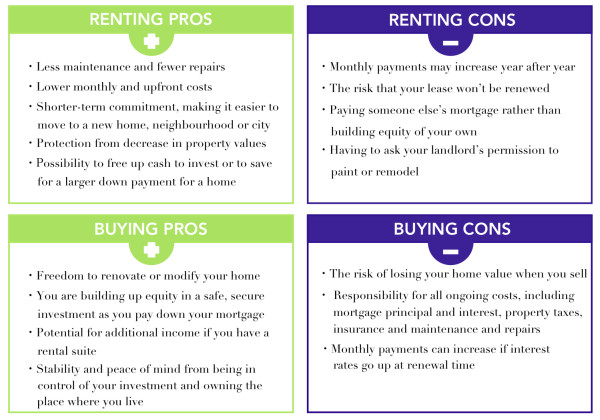 Article from Dominion Lending Centres – 2019 Special Edition – The Mortgage Annual